Codfish roe or sardine roe can be boiled, chopped and seasoned with parsley, garlic, olive oil and a dash of vinegar. It is usually served as an appetizer in portuguese cuisine.
Ovas de bacalhau ou de outro peixe podem ser cozidas, cortadas e temperadas com salsa, alho, azeite e um pouco de vinagre. É uma excelente entrada na cozinha portuguesa.
Ingredientes: 2 ovas de peixe, 6 dentes de alho, salsa, azeite e vinagre a gosto.

Coloque uma panela ao lume com água temperada com sal e deixe ferver.

Junte as ovas e deixe cozinhar entre 10 a 15 minutos.

Retire uma ova, corte e veja se está cozida.

Escoe a água e deixe as ovas arrefecerem.

Cortar as ovas às rodelas.

Picar os alhos e a salsa e juntar às ovas.

Temperar com azeite e um pouco de vinagre.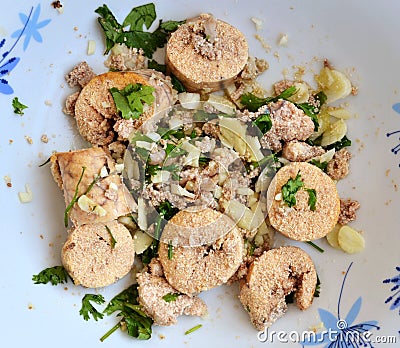 © Photographer and cook: Celia Ascenso | Agency: Dreamstime.com
Ingredients: 2 fish roe, 6 garlic teeth, parsley, olive oil and vinegar fitting your taste.

Put water in a pan with salt and make it boil.

Add the roe and let cook for 10 to 15 minutes.

Take a roe, shop it and check to see if it is cooked.

Take the water out and let it cool.

Shop the roe in slices.

Mince

the garlic

and

parsley

and add

to the

roe.

Season with

olive oil and

a little vinegar

.
Enjoy!