Found this 11 minutes Blender 3D: Destroy a Christmas Ornament video tutorial on Youtube, by Blender Campus, and in a snap I was smashing christmas baules on blender.
Made my ball in a glass material, and changed the colour in each render.
I would love to experiment with nice soft light and wooden floors, but render times on my really old pc are impossible.
After rendering the image almost for 12 hours, I still had noise on the shades, and used GIMP

to clear the noise on those parts, wich was tedious enough, but here is the result of my virtual smashing.
Thank you Blender Campus!
Red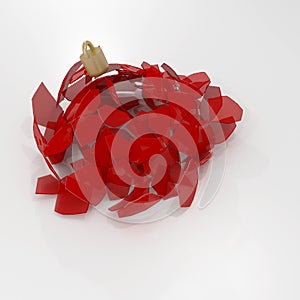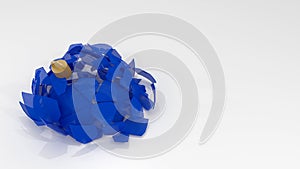 Encontrei o tutorial de video Blender 3D: Destroy a Ghristmas Ornament (destroi um ornamento de natal) feito por Blender Campus, e num instante já estava a destruir bolas de Natal com o blender.
Fiz a minha bola num material de vidro, e mudei a cor do vidro em cada imagem.
Gostaria de experimentar um uma luz suave e um chão de madeira, mas o tempo que a imagem demora a fazer no meu muito velho PC é impossível.
Depois de produzir a imagem durante quase 12 horas, ainda tinha ruído nas sombras, e usei o GIMP para limpar esse ruído, o que foi um pouco entediante, mas aqui está o resultado da minha destruição virtual.
Obrigada, Blender Campus!