Logical thinking is a mathematical problem-solving skill: If this ... then that...
It needs to be stimulated in children because it is a skill that is developped with practice. The more they practice, the more they will be good at it.
It is on part of the brain gymnastics.
The garden is a printable paint activity to develop logic skills using math and linguistic concepts. Also created to help dyslexic children with laterality issues. Instructions can be covered and read aloud, or let the child read them.
This activity includes concepts that include color, pattern, laterality and size.
You can make your own set of rules because all flowers have different patterns and sizes.
Paint the flowers follwing the rules:
the pink flower has stripes

the red flower is the biggest

the yellow flower is taller than the others

the blue flower is on the left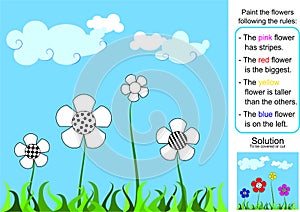 Pinta as flores seguindo as regras:
A flor cor de rosa tem riscas.

A flor vermelha é a maior.

A flor amarela é mais alta que as outras.

A flor azul está à esquerda.
O pensamento lógico é uma habilidade matemática da categoria de resolução de problemas: se isto... então aquilo...
Necessita de ser estimulado nas crianças porque é uma habilidade que se desenvolve com a prática. Quanto mais se pratica, mais se é bom nela.
Faz parte da ginástica cerebral.
O jardim é uma atividade para pintar que pode ser imprimida. Desenvolve a lógica utilizando conceitos matemáticos e linguísticos. Foi criado para ajudar as crianças disléxicas com problemas de lateralidade. As instruções podem ser idas em voz alta e a solução tapada.
Esta atividade tem conceitos que incluem a cor, o tamanho, os padrões e lateralidade.
Podemos criar regras personalizadas, pois todas as flores têm padrões e tamanhos diferentes.