Found this blender candy

material

tutorial here at mclelun website, between other interesting tutorials.
I tr

ied

it but

used

it on an open space, just the way I like it, to make greeting cards, pa

rty invitations

or just serene illustrations to relax the eye on it.
Next, I will try to apply the mater

i

al to different shapes and maybe a

n animation

in blender. I

t

really looks like those pairs of lollipops are friend

s walking along.
Here is the result of the first 2 experiments: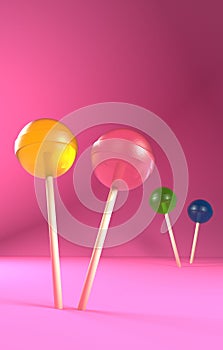 Encontrei este tutorial blender com um material de chupa-chupa aqui em mclelun, entre outros tutoriais interessantes.
Experimenti, mas coloquei os chupa-chupas num espaço aberto, como gosto, para usar como cartões de boas festas, convites ou simplesmente ilustrações

mais serenas, onde podemos relaxar os olhos.
Acima está o resultado das duas primeira

s experiências.
A seguir vou aplicar o material em formas diferentes, e talvez fazer uma animação com o blender. Parecem mesmo que os pares

d

e chupa-chupas são amigos a caminhar lado a lado.